About Our Space
---
Rent A Desk isn't just another co-working space. It's a haven for your innovative experiments and inquisitive ideas nurtured by a home-like feeling. Designed to provoke aesthetic innovations our spaces provide you with the freedom to chase, reinvent, reawaken and go beyond your dreams.

We just have one thumb rule at Rent A Desk: Your Productivity First!
We started Rent A Desk with the mission of providing cosy, home-like spaces that nurture networking and cross-pollination of ideas. A place where everyone belongs and feels comfortable. We are creating workspaces that has no rules while supporting your hustle and creativity. Say hello to workspaces that are tailor made to suit your taste!.
Our Price
INR 9500 / Month for 1 / Month
Office Open Days
Open 24/7, Monday - Friday, Saturday & Sunday, Sunday - Thursday
No. of Space Available
127
Preferred Skills
Any Skills
Facilities Available
Internet / WiFi, Reception Area, Office Desks / Chairs, Conference room, Furnitures / Bean bag, Whiteboard / Projector, Printer / Scanner, IT Support, UPS / Invertor, Locker / Cupboard, Air Conditioning (AC), Fan / Cooler, Security Guard, Cafeteria / Dining Hall, Microwave / Fridge, Coffee / Tea Dispenser, Indoor Plants, Two Wheelers Parking, Four wheelers Parking, Elevator / Lift, Terrace Lounge
Our Space can also be rented for
Meetups - Small Group meetings, Training / Coaching Space
Accessible & Nearby to
Hotels / Restaurants, Coffee / Bakery Shop, Pizza / Burger Shop, Movie Theatre, Shopping Mall, Bank / ATM, Bus Stop, Railway Station
Security Check
Please do bring one of your acceptable valid Photo ID or documents (Driving licence, Passport, etc.) during your first visit to our office space. It's just to check and verify your name, contact details and to keep the space safe for everyone. Thanks for understanding.
FEATURED SPACE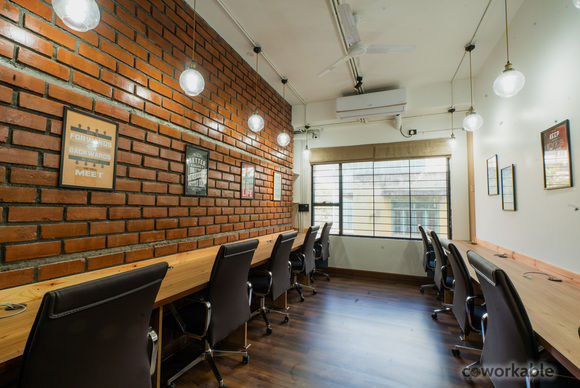 Want to quickly find Affordable cost Shared office spaces at your convenient locations?