Pro Working Spaces For Small Medium Individual Local Entrepreneurs In South Ex
New Delhi, India
More Information
About Our Space
---
Awfis Space Solutions is a new-Age venture aimed at providing, Plug & play pro-Working spaces, Embedded with the best technology solutions for just in time utilization.

The South Ex center is spread across an area of 6000 sq. Feet having work space options of private cabins, Fixed and flexible seats, Meeting rooms, Conference rooms. The center also provides members with high technology enabled physical infrastructure which includes video projection, Nfc cards, Cctv, High-Speed internet and laser printing. In addition we also provide administrative support for printing, Scanning, Photocopying, Courier handling etc. We have dedicated coffee vending machine, Coca cola vending machine and microwaves in pantry area.

The workspaces can be leased from 1 day to 11 months (Or more) and the pricing starts at ₹ 400 per seat per day. Our pricing includes all amenities/services and there are no hidden charges.
Our Price
INR 5000 / Month for 1 / Month
Office Open Days
Monday to Friday
No. of Space Available
75
Preferred Skills
Any Skills
Facilities Available
Internet / WiFi, Reception Area, Office Desks / Chairs, Conference room, Furnitures / Bean bag, Whiteboard / Projector, Printer / Scanner, IT Support, Air Conditioning (AC), Security Guard, Cafeteria / Dining Hall, Microwave / Fridge, Coffee / Tea Dispenser, Abled-friendly Facility, Elevator / Lift, Terrace Lounge
Our Space can also be rented for
Meetups - Small Group meetings
Accessible & Nearby to
Hotels / Restaurants, Coffee / Bakery Shop, Pizza / Burger Shop, Bank / ATM, Bus Stop
FEATURED SPACE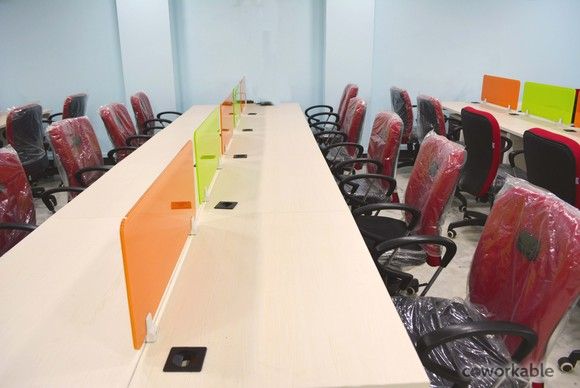 New Delhi, India
INR 6000 / 1 Month
---
MORE INFO
Want to quickly find Affordable cost Shared office spaces at your convenient locations?