Coworking Spaces And Private Cabins At Rs 5000 / Seat At Koramangala 5th Block. Freee Usage Of Conference And Meeting Rooms
Bangalore, India
More Information
About Our Space
---
1 MONTH RENT - 1 MONTH ADVANCE ONLY - Co working seats at INR 5000Private cabins that can seat teams of 3, 5, 7, 9, 12, 15 and 20 available. Located in Koramangala, DigitalHive business center has closed cabins ranging from three seaters to twenty seater suited with director cabins. Priced optimally, first floor office has 24x7 power backup, high speed internet lines, round the clock security, a well equipped pantry and each cabin is individually air conditioned. The office is aesthetically designed with windows in every room and has high back ergonomic chairs. With flexible pricing and standard packages, DigitalHive is a quick and easy setup for your new office. In-house CA and Legal teams are available at discounted rates for Digital Hive members. Welcoming you to experience simplicity and a hassle free work environment.
Our Price
INR 5000 / Month for 1 / Month
Office Open Days
Monday to Friday, Open on Saturdays / Sundays
No. of Space Available
45
Facilities Available
Internet / WiFi, Office Desks / Chairs, Furnitures / Bean bag, Whiteboard / Projector, IT Support, Air Conditioning (AC), Security Guard, Abled-friendly Facility, Event Space / Floor Space, Two Wheelers Parking, Four wheelers Parking, Elevator / Lift
Our Space can also be rented for
Meetups - Small Group meetings, Training / Coaching Space, Photography / Video Shoot
Accessible & Nearby to
Hotels / Restaurants, Coffee / Bakery Shop, Pizza / Burger Shop, Movie Theatre, Shopping Mall, Bank / ATM, Bus Stop, Taxi / Auto Stand, Airport
Our Location
FEATURED SPACE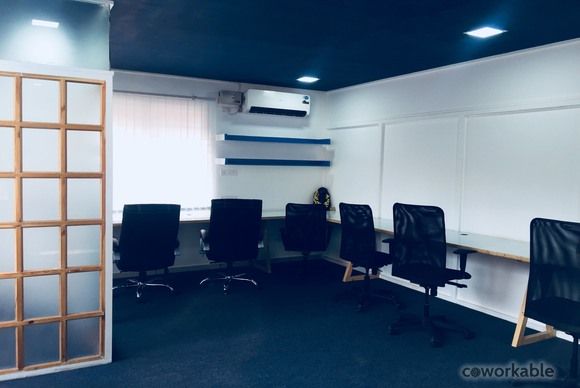 Want to quickly find Affordable cost Shared office spaces at your convenient locations?