About Our Space
---
We are a Business Center & Serviced Office based out of Bangalore. Three floored building with an elevator, each floor with 24 plug and play seats in the common area, a spacious lounge space to chill out, two air-conditioned private cabins with 8 seats, and one air-conditioned private cabin with 10 seats. Each private cabins have attached toilet/bathrooms. Whiteboard and notice boards are provided in each cabin. High-speed internet connection, coffee machine, 24x7 security, private parking space for both 2 and 4-wheelers.
Our Price
INR 6000 / Month for 1 / Month
Office Open Days
Monday to Friday, Open on Saturdays / Sundays
No. of Space Available
20
Facilities Available
Internet / WiFi, Office Desks / Chairs, Furnitures / Bean bag, Whiteboard / Projector, Air Conditioning (AC), Security Guard, Indoor Plants, Two Wheelers Parking, Four wheelers Parking, Elevator / Lift
Accessible & Nearby to
Hotels / Restaurants, Coffee / Bakery Shop, Pizza / Burger Shop, Movie Theatre, Shopping Mall, Bank / ATM, Bus Stop
Security Check
Please do bring one of your acceptable valid Photo ID or documents (Driving licence, Passport, etc.) during your first visit to our office space. It's just to check and verify your name, contact details and to keep the space safe for everyone. Thanks for understanding.
Our Location
FEATURED SPACE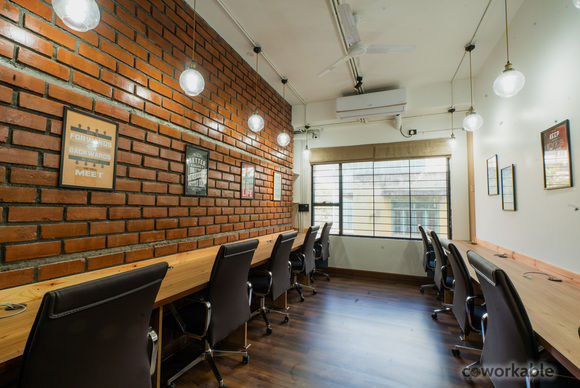 Want to quickly find Affordable cost Shared office spaces at your convenient locations?